दोस्तों त्योहारों का सीजन चल रहा है एवं पर द ग्रेट इंडियन फेस्टिवल सेल चल रही है आप अगर कोई प्रोडक्ट खरीदना चाहते हैं जैसे मोबाइल फोन लैपटॉप ग्रेटर वॉशिंग मशीन आपके पास पैसे नहीं है तो दोस्तों टेंशन फ्री हो जाइए क्योंकि ऐमेज़ॉन आपको दे रहा है बिना ब्याज के पूरे ₹60000 तक का लोन जिसे आप खरीद सकते हैं अमेजॉन पर कोई भी प्रोडक्ट आसान किस्तों पर बिना ब्याज के
आज की पोस्ट में आपको यहां पर मैं बताऊंगा कि आप कैसे ले सकते हैं ₹60000 तक का लोन बिना ब्याज के जिससे आप कोई भी प्रोडक्ट बाइक अमेजॉन से आसान किस्तों पर बिना ब्याज के
कुछ दिनों पहले एक प्रोडक्ट लॉन्च किया जिसमें आपको ₹60000 तक मिल सकते हैं शॉपिंग करने के लिए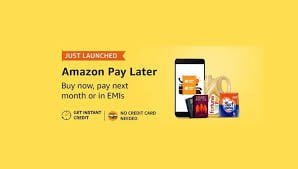 Amazon Pay later है क्या
दोस्तों अगर आपको ऐमेज़ॉन पर amazon paylater मिलता है तो आपको यहां पर एक लिमिट मिलेगी जिसमें आपको यहां पर ₹5000 से लेकर ₹60000 के बीच कितनी भी लिमिट मिल सकते हैं , जितनी लिमिट आपको मिले उस लिमिट को यूज करके आप अमेजॉन पर इजी ईएमआई में कोई भी प्रोडक्ट आसानी से खरीद सकते हैं केवल 2 मिनट में, और जो भी आप लोन अमाउंट वहां पर यूज करेंगे उस लोन अमाउंट को आप 3 से 12 महीने की आसान किस्तों में कन्वर्ट कर सकते हैं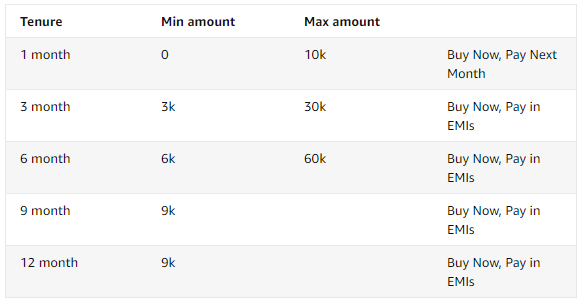 About Amazon Pay Later
Amazon Pay Later is the hassle-free way to get instant credit, via a completely digital process, for purchases using EMI on Amazon.in. You have to complete the one-time setup process, which should not take more than 2 minutes and does not require you to provide credit card details. Once the setup is complete, you can avail Amazon Pay Later payment option during checkout on Amazon.in, and pay later next month or over EMIs ranging from 3 to 12 months. You can easily track your purchases, repayments, and limits history from a simplified dashboard for this payment mode. Amazon Pay Later is offered to you by Amazon Pay (India) Private Limited ("Amazon")in partnership with one of its third-party lending partners – Capital Float or IDFC FIRST Bank.Is Amazon Pay Later same as Amazon Pay EMI?
Yes, both are same. Amazon Pay EMI has been re-branded to Amazon Pay Later.What are the key benefits of Amazon Pay Later?
Get instant decision on your credit limit by the lender.
Credit card details not required.
No processing or cancellation fee.
No pre-closure charges.
Seamless checkout on Amazon.in using Amazon Pay Later payment option.
Simplified tracking of expenses and repayments on the EMI specific dashboard
What are the eligibility criteria to avail Amazon Pay Later?
You need to have an Amazon.in account with a verified mobile number, a valid permanent account number (PAN) card, bank account with one of the selected banks, and one of the officially valid document as address proof – Driving license, Voter ID card, Aadhaar, Utility Bills (not older than 60 days), Passport. You must be 23 years of age or above Further eligibility is decided basis information already available with Amazon and your credit bureau history. Based on these and a host of other factors, lending partner will decide the Amazon Pay Later limit for you.Why am I not getting the option to register for Amazon Pay Later?
We have made Amazon Pay Later available for a limited set of customers. We are working towards enabling it for a larger set of customers. We appreciate your patie
amazon pay later को एक्टिवेट करने के लिए डाक्यूमेंट्स क्या देने होते हैं
Amazon paylater को एक्टिवेट करने के लिए आपके पास ऐमेज़ॉन के अंदर अपना खुद का एक अकाउंट होना चाहिए ऐमेज़ॉन के अंदर आपकी फुल केवाईसी होनी चाहिए
यानी आपको ऐमेज़ॉन के अंदर केवाईसी करनी होगी कंपलीट केवाईसी करने के लिए जो डॉक्यूमेंट यहां पर देना है उसमें आपको यहां पर आधार कार्ड देना होगा अगर आपका अमेजॉन अकाउंट फुल केवाईसी है तो आपको amazon paylater मिल सकता है
Amazon paylater को एक्टिवेट करने के लिए आपको आधार केवाईसी करनी होगी
आपको यहां पर आधार कार्ड और पैन कार्ड देना होगा amazon pay later एक्टिवेट करने के लिए, आपको सिर्फ एक्टिवेट पर क्लिक करना होगा आपके रजिस्टर्ड मोबाइल नंबर पर एक OTP आएगी वह ओटीपी आपको वहां पर डाल देनी है
और आपका amazon paylater अकाउंट एक्टिवेट हो जाएगा
उसके बाद अगर आप कोई प्रोडक्ट खरीदना चाहते हैं amazon से तो आप वह प्रोडक्ट आसान किस्तों में ले सकते हैं, amazon.pay लेटर को सिलेक्ट करके,
और आपको प्रोडक्ट मिल जाएगा 12 महीने तक की आसान किस्तों में
Amazon paylater को कैसे एक्टिवेट कर सकते हैं
Amazon Pay Later Registration
How can I register for Amazon Pay Later?Go to Amazon Pay Later registration page on your Amazon.in mobile App and follow simple on-screen instructions.Step 1: Complete your KYCYou will be shown one of the below four modes of KYC completion:

Existing KYC (shown only in case you have completed KYC for Amazon Pay Balance).
OTP Based eKYC
Existing customer with lending partner (Shown only in case you have already completed KYC with our lending partner in past)
KYC as received from CKYCR under CERSAI
amazon.pay लेटर को एक्टिवेट करने के लिए आपको नीचे अप्लाई पर क्लिक करना होगा