Instant Personal Loan with Low Credit Score | दोस्तों यह तो आप सभी को पता है |
कोरोना काल के चलते तकरीबन तकरीबन सभी लोगों को आर्थिक दिक्कतों का सामना करना पड़ रहा है |
कोरोना काल के चलते बहुत ऐसे लोग हैं जिनके घरों में मेडिकल इमरजेंसी आ गई है |
किसी को शादी के लिए पैसों की जरूरत है | कोई अपने बंद कारोबार को फिर से स्टार्ट करना चाहता है |
कोई अपने घर की मरम्मत कराना चाहता है | उनके पास पैसे नहीं है यह सभी काम कराने के लिए |
तो दोस्तों टेंशन फ्री हो जाइए क्योंकि आज हम आपके लिए एक ऐसी फाइनेंस कंपनी लेकर आए हैं |
जहां पर आप घर बैठे Personal Loan के लिए अप्लाई कर सकते हैं |
यहां पर आपको सबसे कम इंटरेस्ट पर Loan मिलता है | यहां पर आप सभी बैंकों के ब्याज कंपेयर कर सकते हैं |
पर्सनल लोन लेने पर आपको यहां पर ब्याज स्टार्ट होता है 10.49% से
अगर आप घर बैठे लोन लेने की सोच रहे हैं | तो यह फाइनेंस कंपनी आपके लिए मददगार हो सकती है |
दोस्तों जिस फाइनेंस कंपनी की हम बात कर रही है जहां पर आप पर्सनल लोन अप्लाई कर सकते हैं |
उस फाइनेंस कंपनी का नाम है LOANMONEY यह कंपनी आपको घर बैठे Personal Loan दिला सकती है |
Loan Type
यहां पर आपको 4 तरह के लोन मिलते हैं |
इनके अलावा आप यहां पर Credit Cards भी अप्लाई कर सकते हैं |
चलिए हम बात करते हैं पर्सनल लोन आप कैसे अप्लाई कर सकते हैं |
Best Personal Loan in India
पर्सनल लोन एक तरह का असुरक्षित लोन है और आपकी मौजूदा वित्तीय जरूरतों को पूरा करने में आपकी मदद करता है।
शेयर या संपत्ति के दस्तावेजों के रूप में बैंक को कोई सुरक्षा प्रदान करने के लिए असुरक्षित व्यक्तिगत ऋण की आवश्यकता नहीं होती है।
Personal loan नियोक्ता कंपनी और कर्मचारियों की क्रेडिट योग्यता के आधार पर प्रदान किया जाता है।
ऋण राशि कंपनी श्रेणी और शुद्ध टेक-होम वेतन पर आधारित है।
पर्सनल लोन मिनिमल डॉक्यूमेंटेशन के साथ लचीले होते हैं,
इसमें फास्ट अप्रूवल मैकेनिज्म होता है और यह उन सभी के लिए खुला होता है,
जिनके पास सुरक्षित / नियमित आय, क्रेडिट हिस्ट्री, सिबिल स्कोर होता है, चाहे आवेदन का उद्देश्य कुछ भी हो।
असुरक्षित व्यक्तिगत ऋणों का उपयोग विभिन्न प्रकार के उद्देश्यों के लिए किया जा सकता है,
जैसे बच्चों की शिक्षा, चिकित्सा आपात स्थिति, शादी का खर्च,
गृह नवीनीकरण, व्यवसाय शुरू करना या कोई अन्य वित्तीय दायित्व।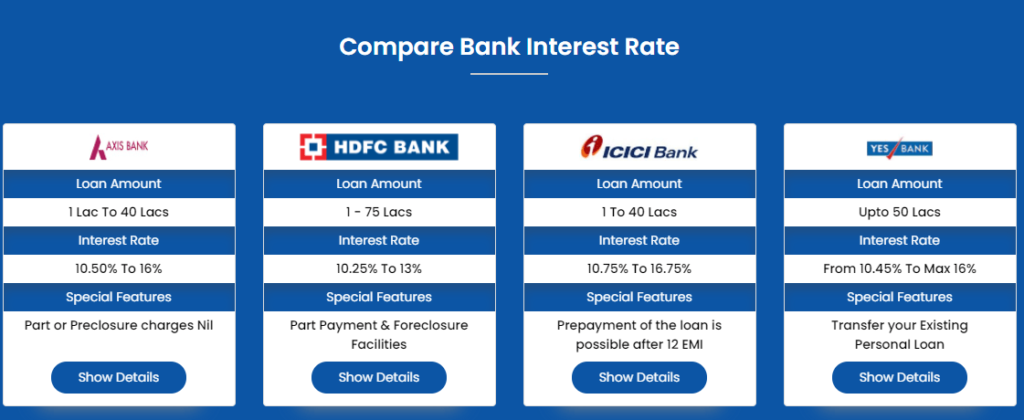 दोस्तों आप यहां पर सभी बैंकों के ब्याज को कंपेयर करके Loan Apply कर सकते हैं |
Application Form with Passport size Photo
Identity proof: Voter ID Card, Aadhar Card, PAN Card, Passport, Driving License
Address proof: Voter ID Card, Aadhar Card, Driving License, Ration Card, Passport, Telephone/Electricity Bill, Rental Agreement.
Latest 3 months bank Passbook statement
Latest 3 months salary slip or current salary certificate.
Latest Form 16
Personal Loan General Information
General Information
There are various factors to consider while taking a Personal Loan in order to assure the borrower gets the best possible deal. Factors such as:
Loan Amount: 1 Lac to 40 Lacs | Rate of Interest (APR)*: 10.75% to 22.50% | Repayment Tenure: 12 Months to 60 Months | Processing Fees: 0.75% to 2.50% + GST as applicable | Prepayment/ Foreclosure: Nil (After 12 months) or 1% – 4% (Before 12 months)
Illustration: 1 Lac loan on @10.75% with processing Fees for 60 Months comes to Rs. 1,29,708/- Equated Monthly Instalment shall be: Rs. 2,162/- only.
* APR – Annual Percentage Rate
A personal loan is a loan taken by the salaried individual to finance any personal Expenses like Weddings Expenses, Home Renovations, Medical Expenses, Bill payment, Dream Vacation Tour, Starting a Business, Higher Education. In Personal Loan, the borrower has full freedom to use the money for any purpose they want.
Collateral-free Loan
Instant Approval
Minimum Document Required
Attractive Rate of Interest
Flexible Repayment Option
Lowest EMI
Maximum Loan Tenure
Quick Disbursal
Door-Step Services
Personal Loan Eligibility Calculator helps you to understand the maximum loan you can avail of depending on your net monthly income and repayment capacity. Various factors will consider for your personal loan eligibility such as net monthly income, company category, job continuity, CIBIL Score, other financial liabilities, etc. You can also check eligibility criteria and document required for the Salaried Personal Loan.
| Particulars | Salaried | Self Employed & Professional |
| --- | --- | --- |
| Age(Min-Max) | 23 To 58 Years | 25 To 65 Years |
| Minimum Income | Net Monthly Salary > 25000/- or More | NA |
| Co-applicant | Not Require | NA |
| Loan Tenure | 12 To 60 Months | 12 To 60 Months |
| Maximum Loan Amount | Max. 30 Lacs | Max. 20 Lacs |
| Employment/Business Continuity | 1 Year Job Stability is Mandatory. | NA |
| CIBIL Score | Minimum 720 | NA |
Applicant Minimum age of 21 years.
Applicant Maximum age of 60 years at the time of maturity of the Personal Loan
Minimum Monthly Income: Rs. 25,000/- or more
Salaried Employees / Professionals (Salaried Doctors, CA, Employees of Private Ltd. Companies, and Employees from Public Sector undertakings including State & Central Govt. )